Buckle up it's the third episode of Instant Hotel 2019.
This week on Channel 7's Instant hotel we visited the 'Seaside Escape' – a charming, colourful beach shack located in PORTSEA, Victoria, Australia.
Jay & Leah, newly dating couple, created their Instant Hotel from Jay's family beach-side house that he grew up in. They told us it represented the true Australian family dream, that was only a hop, skip and a jump from the beach. ​
We were excited to compare the Beach Shack to our Instant Hotel, The Misty Mountains Homestead. We thought these guys were going to be tough competition being in the millionaire playground of Portsea. ​​
Mmm… maybe that was a bit of leap. We were quite literally, in the middle of suburbia, the only ocean waves heard were the cars driving by.
But this Aussie beach shack on Instant Hotel set us back $250 per night. There were 3 bedroom and wait for it… just 1 bathroom. While it does sleep a total of 6 people, it was done in a bit of a chaotic manner.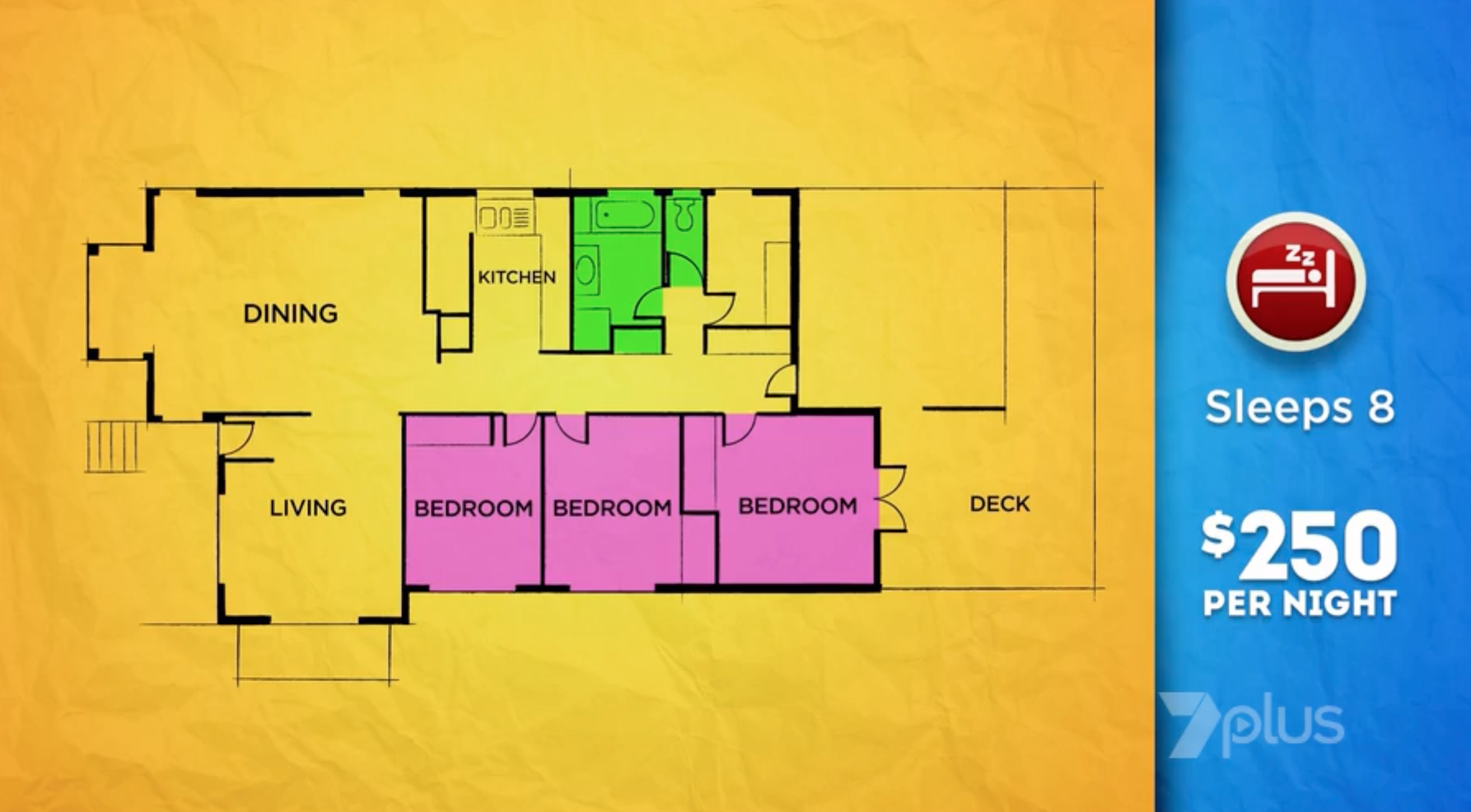 Mark out-smarted everyone by 'breaking' the shower head to get the shower first before the hot water ran out, while Gene had to brush his teeth in the kitchen sink because the morning bathroom line-up took too long.
Although Portsea is where you see multi-million dollar homes on every corner, this place was definitely more humbling.
Gene thought it was a, "Claustrophobic, shabby shack. I flashed back to the 50's and it was a bad flash back."
While I thought it would be "cute for someone else"… Just not us!
King Gene and his Queen Sharon once again won the master bedroom competition. Our trade off was to cook dinner, which we later regretted.
The activities made the experience far more enjoyable. The sausage making was a hilarious experience filled with lots of sausage innuendo jokes. The problem was we aren't 'sausage people' so cooking them for dinner was gag-worthy.
Luckily the hot springs at the Mornington Peninsula were extremely relaxing and a real highlight of the Portsea area.
Plus, I really love wineries so this area is a really winner for me.
Gene said, it was 'Fantastic value for money, but ​it was a hardship for me to be here."
Expert Judges:
Juliet Ashworth: 7/10 – "Charming, nostalgic and original – bed linen was not acceptable at all."
Laurence Llewelyn-Bowen: 7/10 – "Realistic for budget Portsea experience, but they showed their ages at attention to detail."
Contestants Total Score: 14/30
Some other comments throughout the episode were:
"All the little extras were very thoughtful, it offered impressive value for money. It was nice to experience, but the bedding was a let down."
Gene and Sharon said, "Cheap and cheerful, it's a shabby shack – you two have a lot to learn. Attention to detail. There was hair in the bed, it's a no-go."
Overall the score of 28/50 which brought this team to the bottom of the leader board for Instant Hotel.
Jay and Leah appreciated the fact they have a lot of work to do to get it up to standard.​
Tune in next week for the next location on Channel 7's Instant Hotel, The Misty Mountains.
As Gene put it so eloquently: "Forget the rest – we will be the best."
If you are interested in finding out more about our Instant Hotel, The Misty Mountains Homestead located in The Misty Mountains Ancient Rainforest next to The Great Barrier Reef click here.