Sharon Louise Salvestrin born 19th July 1973 in Bundaberg, Queensland has since become an Australian Reality TV Personality, Luxury Resort Creator, Marriage Celebrant and featured with Peter Lik Publishing Australia. This career driven woman has become a Proprietor of Romantic Retreats and Lifestyle Entertainment, while also being the wife of Giancarlo Pierson (Gene Salvestrin) and mother of two.
Here is how Sharon's journey started…
At the age of 16 Sharon began her modelling career pursuing her catwalk, photographic print and television commercials. By 19 Sharon became an established North Queensland model after integrating choreography within fashion parades.
This experience gave Sharon the inspiration to start the first modelling and tv presenting school in North Queensland. She saw the importance for mentoring and inspiring young talent from small towns to follow their dreams. One of her success stories is an Australian actress and model, Isabel Lucas.
Sharon's career took a change of scenery when she began working with Ansett Australia as a flight attendant for 7 years, this inspired a new love and passion for luxury travel.
Sharon created Careers TV and only a year later, along with her husband Gene, they created a new style of barefoot luxury accommodation for Australian holiday rentals. East Bedarra Island Retreat was created and this soon led to Romantic Retreats which specialises in private boutique romantic holidays for couples. Being a registered marriage celebrant compliments these businesses perfectly. Using her sister company Outstanding Weddings Sharon has performed numerous celebrity ceremonies across Australia.
Through her vast understanding in luxury travel Sharon developed a love for prestigious property. Together Sharon and Gene also created a nature wonderland consisting of Misty Mountains Retreat and Misty Mountains Homestead. Sharon's true passion for nature as an ambassador with Ecotourism, helped to seamlessly pair both very unique locations for guests to experience barefoot luxury. Misty Mountains Retreat was chosen from 80,000 Australian properties entries to be featured on Channel 9 TV series Unreal Estate. Recently, Sharon & Gene feature their home on Instant Hotel, Channel 7 TV series with Misty Mountains Rainforest Homestead which will be aired nationally in 2019.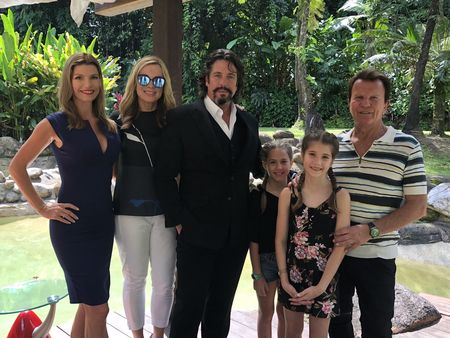 Getting to know Sharon Q & A
What is your greatest strength?
To wake up each day with a smile, to make everyday count and to always be able to walk into a situation and to make it positive.
What is your greatest weakness?
I was brought up to always be honest this can be my weakness but also my strength.
If you could have one wish what would this be?
For the world to be a better place. For politicians to stop making the same promises I heard growing up. For everyone to understand and contribute to making the world a better place with sustainable living for the environment.
What advice would you give the younger generation of today?
Have a dream, follow through and you will achieve. Spend less time on social media and more time living your life. Recycle and look after the planet. Life is not a dress rehearsal make each day count.
How do you switch off from your busy life?
I love to walk in the rainforest or on a beach as nature is my sanctuary to refocus.
What's your idea of absolute happiness?
At this point in time I treasure my family time. Sharing laughter and time together is a daily gift. Setting and achieving goals is a great high, helping others and making others happy is also good for the soul. There is nothing materialistic that matters for true happiness as this is a state of the mind not what you own.
What's your favourite place to travel to?
Italy has a close place in my heart as I am married to an Italian, however I love the South of France and anywhere where there is culture, great food and wine has won my heart.
What do you like about being an Australian career woman?
Today women can have it all. They can be successful, raise a family, travel and create just about anything they wish for as long as they are prepared to work hard for this success. Being an Australian just makes you appreciate the fact that we belong to one of the friendliest and most real cultures in today's world.